Muscular Dystrophy Association Awards Venture Philanthropy Funding to PathMaker Neurosystems to Develop Neuromodulation Treatment for ALS
Boston, MA and New York, NY, January 17, 2023 – The Muscular Dystrophy Association (MDA) and PathMaker Neurosystems Inc. ("PathMaker"), a near-commercial stage neuromodulation company developing breakthrough non-invasive systems for the treatment of serious neurological disorders, announced today an investment of $600,000 through the MDA Venture Philanthropy (MVP) program to PathMaker to advance its work in amyotrophic lateral sclerosis (ALS).  MDA uses the Venture Philanthropy program to invest in companies committed to clinical application of high-impact, novel treatments for neuromuscular diseases, including ALS.  This funding will support the launch of an ALS early feasibility study (EFS) using PathMaker's breakthrough technology for motor neuron hyperexcitability suppression.
"We are truly grateful and honored to have received the support of MDA through the MVP program as we prepare for the clinical application of our non-invasive approach in ALS," said Nader Yaghoubi, M.D., Ph.D., Co-Founder and Chief Executive Officer of PathMaker. "There is a severe unmet need for novel treatment options for this rapidly progressive neurodegenerative disease. Our technology works by suppressing overactive spinal motor neurons found in people with ALS and could represent a new therapeutic treatment modality for this devastating disease.  We are very pleased to have the support of MDA and its network of clinicians and patient advocacy groups."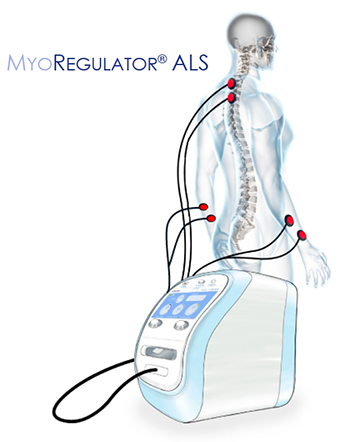 PathMaker's MyoRegulator® ALS device – The MyoRegulator® ALS device uses non-invasive neuromodulation to suppress hyperexcitable motor neurons in ALS.
"PathMaker's non-invasive approach to the treatment of ALS stands out for its innovation and already shows great potential in pre-clinical studies," said Sharon Hesterlee, Ph.D., Chief Research Officer at MDA, "We are excited to be part of the development of this unique technology and look forward to its application in clinical trials."
In the past year, PathMaker was awarded the $250,000 CERF Prize in ALS for Medical Electronics from the UK-based Cullen Education and Research Fund (CERF) in recognition of the company's work towards the advancement of its non-invasive technology for ALS, and in 2021 received a $371,000 NIH grant to apply its technology to ALS.
To learn more about the Muscular Dystrophy Association and the MVP program, please visit https://www.mda.org/science/mda-venture-philanthropy.
About PathMaker Neurosystems Inc.
PathMaker Neurosystems is a near-commercial stage neuromodulation company developing breakthrough non-invasive systems for the treatment of people with serious neurological disorders such as stroke and amyotrophic lateral sclerosis (ALS). With offices in Boston (U.S.) and Paris (France), PathMaker is collaborating with world-class institutions on rapidly bringing to market disruptive products for treating brain and other neurological disorders with high unmet medical need. More than 48 million people in the U.S., Europe and Asia suffer profound disabilities due to stroke, ALS, spinal cord injury, multiple sclerosis, traumatic brain injury, cerebral palsy and other related neurological disorders. The MyoRegulator® platform is based on PathMaker's proprietary technology for suppression of hyperexcitable spinal motor neurons, and is built on pioneering work by Prof. Zaghloul Ahmed, Chairman and Professor in the Department of Physical Therapy and Program in Neuroscience, City University of New York (CUNY)/College of Staten Island (CSI).  MyoRegulator® has been designated by the US Food and Drug Administration (FDA) as a "breakthrough medical device." MyoRegulator® and MyoRegulator® ALS are investigational medical devices and are limited by Federal law to investigational use only.  For more information, please visit the company website at pmneuro.com.
About Muscular Dystrophy Association
Muscular Dystrophy Association (MDA) is the #1 voluntary health organization in the United States for people living with muscular dystrophy, ALS, and related neuromuscular diseases. For over 70 years, MDA has led the way in accelerating research, advancing care, and advocating for the support of our families. MDA's mission is to empower the people we serve to live longer, more independent lives. To learn more visit mda.org and follow MDA on Instagram, Facebook, Twitter, TikTok, LinkedIn, and YouTube. For more information visit mda.org.
Source: PathMaker Neurosystems Inc.
Media contact:
PathMaker PR
(617) 535-7696
partnering@pmneuro.com